Inspirational space saving solutions for your stairs
Small stair landings are typically void spaces; put them to good use with a hidden storage box. The cupboard under the stairs is given a modern makeover with clever sliding storage units.
Use your stairs to the max by having each one hidden drawer space. Space saving casual bedroom on the stairs is a new take on a mezzanine.
If you don't need a cupboard under your stairs use it as a cosy reading/relaxation space. No where for your bikes? Use the space under the stairs to hang them - a great way to free up floor space as well. Another great way to maximise the space under the stairs.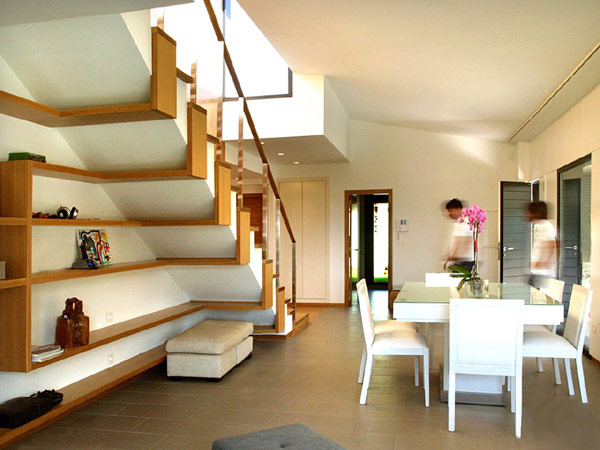 If you're not pushed for storage don't let the space under the stairs go unused - it's a great place for shelving.
Need another downstairs cloakroom? Easy solution - turn the cupboard under the stairs into one!
Keep your beloved hi-fi system out of harms way by placing it under the stairs. The space under the stairs is perfect for a small home office - just remember to give yourself plenty of lighting.
The ideal place for your widescreen TV without it dominating the room.
Tidy up your hallway by putting neat storage spaces under the stairs.
This space is perfect for making a play space for children. Your aquarium won't get knocked over or bumped if you place in the recess under the stairs.
Give your best friends some uninterrupted 'me' time.
If you don't have any storage space for shoes make a display of them on your stairs - very stylish.