Dining room tables and chairs can be an expensive outlay, however, you don't have to buy new or expensive if you repaint, recover or reupholster cheap chairs to suit the style of your home and your colour scheme. Be inspired by my favourites, but some cheap curtain fabric an paint, give yourself a weekend or less and hey presto you'll soon have some really trendy chairs that look like new. With a lick of paint and the seat pads reupholstered you can turn a shabby brown table into a chic place to eat. Look for chairs that have seat pads which either lift off or are held in place with screws. Arm your self with a staple gun and a little patience and you'll create a fabulous to sit in no time at all. Choosing fabrics which suit the style of your home is imperative if you want your renovated chairs to look as if they belong in your home. Take you time and choose patterns and colours that also compliment the table.
If you fancy going bright and bold, tins of spray paint are an easy way to give cane styled chairs a bright new look. Take them outside and make sure you follow the directions on the tin to avoid any unfortunate mishaps. Recover the seat pads, tucking the edges and corners under neatly to give a professional look.
Your chairs don't have to match to look stylish. Choosing different styles of chairs is an inexpensive alternative to sets. If you have different styles of chairs give each its own distinctive fabric and colour so that it doesn't look as if you're trying desperately to make them match.
If you're on a really tight budget and pushed for space folding garden chairs are a great choice. Give them a trendy look by covering the back rest with fabric and then add a comfy cushion to give your bottom a little padded comfort. Fold them away when not it use to save floor space.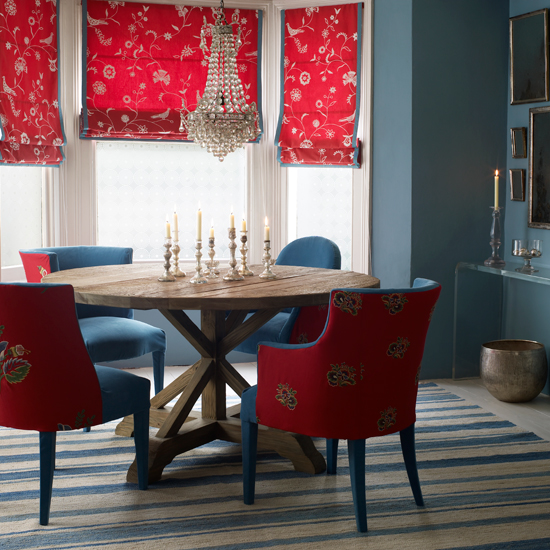 Try reupholstering chairs with two different fabrics. These styles of chairs may take longer and be a little trickier to do but you have to admit the end result is well worth the time and effort. Make colour co-ordinated Roman blinds and your dining room will ooze style without you having to spend a fortune.
---
← Older Post Newer Post →