Amazing children's bedrooms
You don't have to spend a small fortune to achieve a stunning look for a children's room. Bright colours are key, along with a few added extras that will make you smile because your child is happy with the end results. Don't forget that children can be fickle, one day they'll love one colour and theme and the next they'll change their mind, so be open to allowing for natural changes to be made without have to completely redecorate.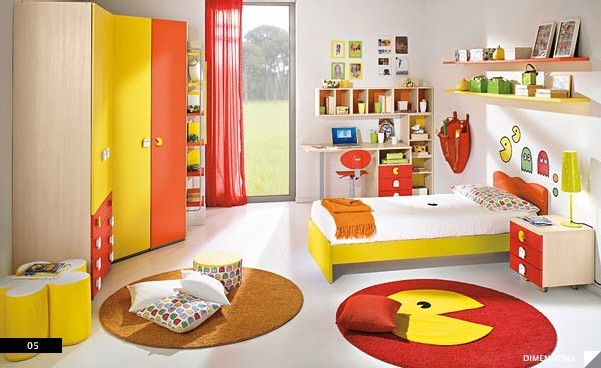 Pac Man may be a blast from the past but this fun character in bright primary colours is a great way to add a touch of fun to a child's bedroom. Girls of all ages will love a bedroom with a bright sunny flower theme. Having flowers made from kids fabric adds a superb tactile and 3 dimensional look to plain walls. Keep things simple and let your child choose the accessories.
Tiny tots love bright colours and wild animals with a friendly face! These gorgeous wall murals are a fabulous way to give plain walls an injection of colour without a fussy and overly complicated pattern.
Having a theme is a good idea if you child really does have a love of something in particular. A boat that's a bed makes a great place to play as well as sleep. Don't rock the boat by trying to make the room too complicated – the bed's the focal point which should speak for itself.
Plain doesn't have to be boring if you give bedding and furniture an injection of trendy colours. Kids will love to put their own mark so to speak on their bedroom, so leave plenty of space for hanging their drawings and lots of shelving for them to display their possessions.
A touch of modern flower power is a great way to give a bedroom a girlie touch without resorting to the princess or castle themes. Ideal for contemporary interiors this stunning bedroom shows that with the use of clever storage even the smallest of bedrooms can look stylishly stunning.