A soak in the bath is a great way to de-stress as well as clean ourselves; however the room that was once solely for carrying out one's daily ablutions has been revolutionised and turned into luxury room to spend time on your own or share with a partner. Take a look at these awesome designer bathtubs and choose your ideal bathtub! Sit and relax with a soothing cup of tea in this fabulous tea-cup shaped bath – just what the doctor ordered at the end of the day. One for the men with this stunning black carbon fibre bath – sleek streamlined design gives this bath a distinctly contemporary look.
Lie back and relax in this gorgeous mock-hammock styled carob fibre designer bath. Available in stylish black red, blue, yellow, pink, bronze, and pure silver and a generous 9' long, it's perfect for some indulgent 'together' time. With a limited set of 12, it costs a about £12,250 ($34,000). Yin-Yang bath to share with a partner. With colour changing mood enhancing lights there's no fighting over who gets the tap-end! The Trautwein 'Couple Tub Yin Yang' received an award at the 2013 Golden Wave.
Sit back and unwind in this designer bath that's been inspired by a chair. The use of wood for the frame gives this stylish bath nautical appeal.
Fancy sharing your bath with gold fish? This awesome £9,000 ($14,550) bath gives the optical illusion of doing so – sit and gaze at the fish while you dream of underwater scenes to soothe away your worries.
Spoil your little 'cup-cake' in this gorgeous cup-cake baby bath – it's so cute a larger size would be bliss for cup-cake lovers too! It's ideal for taking outside in the summer and when she's too big to bathe in it turn into a stylish sandpit. It's a snip at £125.00 (€149) – there's a choice of colours too.
Do you like reading while soaking in the bath? If you do you'll love this amazing 'Bathe in Knowledge' made of books – not only is the outside covered with books the bottom of the bath is too; a great way to recycle unwanted books. Spending time with your partner watching the TV or a film is a great way to be together – add in a hot soak in the bath and you have the ideal combo. Starting from about £3,785 ($6,200) it isn't a cheap way to add a TV to your bathroom.
Baths don't have to have super slick, smooth exteriors -if you love animal hide then get yourself a bath that has it stuck to the outside for a quirky tactile experience.
Get back to nature inside this stunning cave-like bathroom. The sunken bath, natural rock and wood provide an ideal chill-out zone.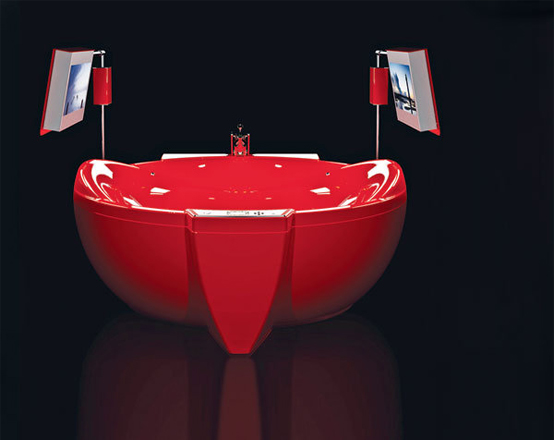 Complete with 2 waterproof 42-inch dual HDTV, massage, Swarosvki crystal encrusted champagne holders, multicoloured lighting and other cool 'must haves' Red Diamond jacuzzi tub costs a cool £29,450 ($47,200). All that sparkles is gold in this stunning gold bath tub. Complete with a wooden lid it's the ideal luxury place to bathe. Go for a mural theme and use enormous speakers to set the scene for a bathroom that's knocks spots off the average bathroom décor.
This one may not be the newest but it still turns heads with the ultimate shaped bath for the girl who has everything. Starting at £10,625 ($17,000) less than many pairs of designer shoes.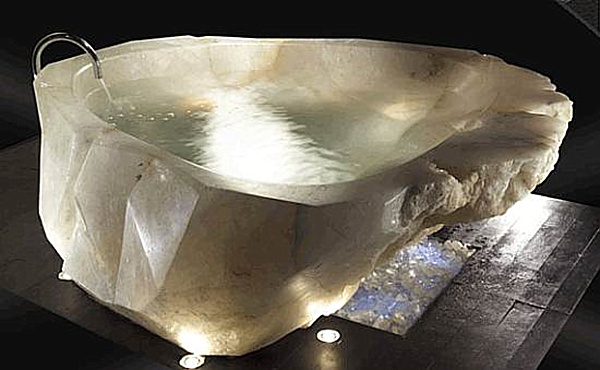 Look at the size of this rock! This quartz bath tub is an eye watering £530,000 ($848,000)! It's 7' long and 2' deep the bath was carved out of a single piece of pure white rock crystal. With its minimalistic design this contemporary bath offers super smooth luxury, along with a innovative design shape. If you love wood then you'll adore this beautiful oval shaped bath with its high gloss sheen.
With the design of softly draping fabric the Palladio bath with made from limestone and can be yours for a little under £18,000 ($28,800). With its unusual shape that reminds me of a piano this stunning bath is the epitome of modern design. It's a lovely blend of old and new and perfect me a little 'me' time.