Outdoor Living Ideas for Your Patio & Garden
Obsessed by the weather, we're either moaning it's too cold or when the sun begins to shine that's there's going to be a water shortage! One is changing however, and that's making use of gardens and patios for more than places for plants. Outdoor living is on-trend and has taken a firm grip on the style stakes. Irrespective of size your outdoor space can be transformed into an additional room for a little R&R with family and friends.
Taking your lounge outdoors doesn't mean you have to scrimp on comfort or style. Be prepared for the unpredictable weather and use a covered patio along with an outside fire place and you'll be able to spend more time outside even when the evenings are a little chilly.
Decking or patio are perfect places to soak up the sun – be prepared not to get sun burnt but using a classical square fabric shade which be adjusted as the sun moves across the sky.
Get informal by ditching deckchairs and using sofas and chairs in the same way as you do indoors. Coffee tables and outdoor rugs or matting give an sense of balance.
If you're going outdoors you might just as well be comfortable and warm. If you don't have the space for an outside fireplace there's plenty of free standing fires to choose from which make a great alternative.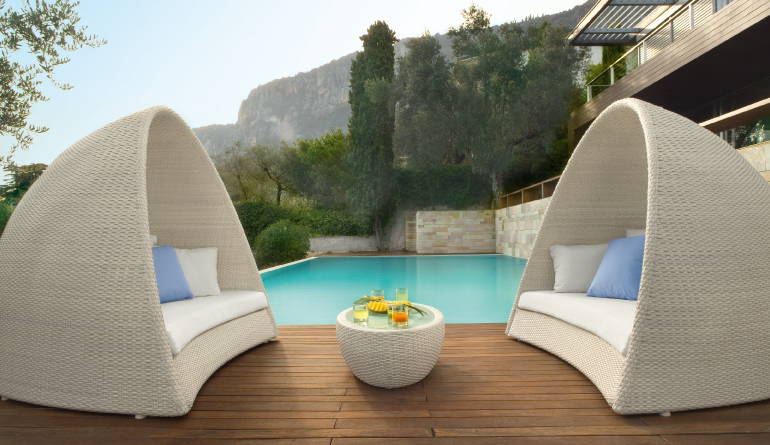 Indulge in a little luxury with stunning covered sofas by the poolside. It may be just a dream, but dreams do come true and there's no harm in adding this style of outdoor living to your wish list.
Looking for something a little more formal? Taking an office outside is an excellent way to do a little team bonding.
(Visited 347 times, 1 visits today)